Bell Unveils Nexus Air Taxi Concept at CES 2019

A team of aerospace companies led by Bell are building an electric-powered vertical takeoff and landing aircraft that could be ready to fly commuters from suburbs into cities by 2023 if they can win the trust of consumers and safety regulators.
Bell unveiled the 6,000-pound Nexus air taxi concept on Monday at the Consumer Electronics Show in Las Vegas, following up on the cabin concept for the aircraft aimed at carrying four passengers the company unveiled during the technology convention last year. The Nexus is part of Bell's plan to build air taxis for an urban air mobility network that Uber aims to offer for passengers to take flights between pre-determined locations the called "vertiports."
"As space at the ground level becomes limited, we must solve transportation challenges in the vertical dimension," Bell CEO Mitch Snyder said in a statement. "That's where Bell's on-demand mobility vision takes hold."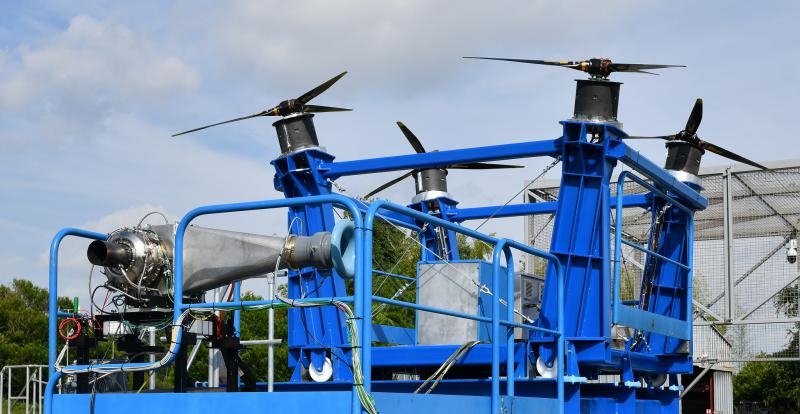 Since announcing its partnership with Uber in 2017, Bell Helicopters shortened its name to emphasize its focus on new aircraft including electric-powered vertical takeoff and landing aircraft, short for eVTOLs. The Uber Elevate partnership includes companies that will provide various services needed to develop an air taxi network, including Aurora Flight Sciences, which since 2017 has become a Boeing subsidiary. Aurora is also building an eVTOL that would ferry passengers on short flights.
The payoff for these companies could be huge if customers can be convinced these aircraft are safe enough to fly. Air taxi flights could generate demand for 80,000 daily passengers and "annual market value is projected to be $2.5 billion for the first few years of operation" after factoring in constraints that could initially limit flights including weather, according to consulting firm Booz Allen Hamilton. NASA commissioned that research and posted a summary on its website in November.
The development of on-demand air taxis is only part of a larger trend of companies drawing on advances in drone technology to develop a variety of eVTOLs. Around 135 electric aircraft concepts are being designed by various startups and companies ranging "from the silly to the serious, says Vertical Flight Society Executive Director Mike Hirschberg.

"Just scaling up an electric drone to carry a person is not a viable solution," says Hirschberg, whose background includes designing vertical aircraft propulsion with the U.S. Defense Department. "There is a quantum leap in safety and reliability that is required between a small unmanned aircraft system and a passenger-carrying eVTOL. Those companies who don't recognize that difference are bound to fail."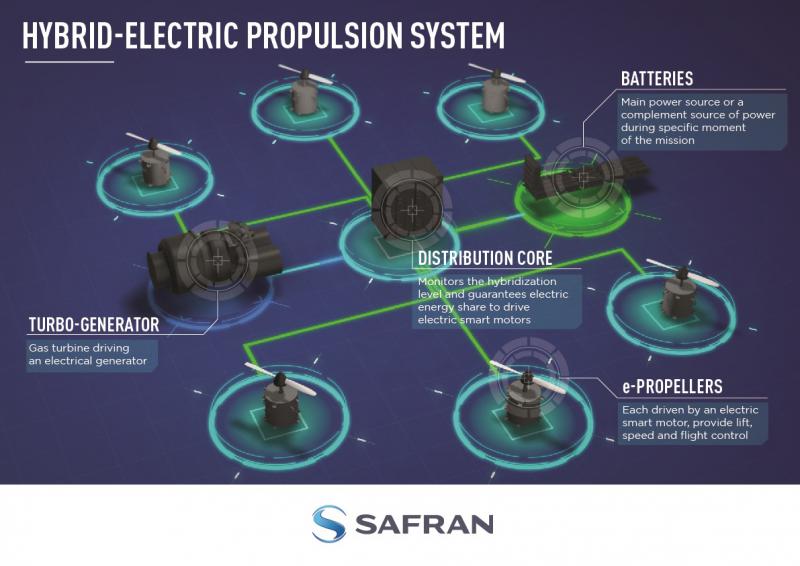 The six propellers of the Bell Nexus would be powered by turboshaft-based hybrid electric propulsion built by Safran. A gas turbine and an electric battery located at the center of the aircraft would send power to tilting ducts behind each of the propellers on both sides of the cabin.

Electric Power Systems is designing the electric energy storage for the Nexus. The team led by Bell also includes Thales, which is developing flight controls for the Nexus. Garmin is designing autonomous vehicle navigation software. Moog is building actuators and electronics to direct the aircraft's propulsion.