Boeing, NASA Aim to Increase Fuel Efficiency with Truss Wing Plane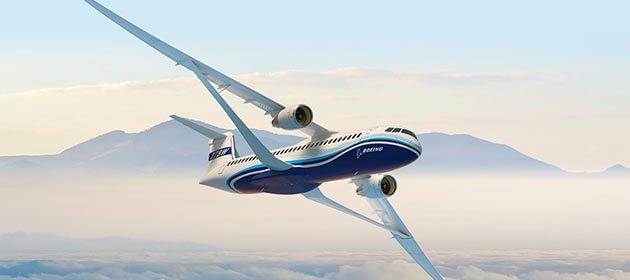 Airlines around 2035 could save money on fuel with Boeing-built airliners designed to reduce drag with long, thin wings extending from the top of the fuselage that are braced by trusses jutting up from the bottom of the aircraft.
Boeing began designing this Transonic Truss-Braced Wing plane for NASA in 2010 and unveiled an updated concept on Jan. 8 in San Diego at the American Institute of Aeronautics and Astronautics SciTech conference. Boeing modified the 737-class plane concept after wind tunnel tests at NASA Ames Research Center.
The truss plane designed as part of a contract with NASA's Subsonic Ultra Green Aircraft Research program would include two turbofan engines beneath a 170-foot wingspan. Boeing announced this latest concept could fly at Mach 0.8, which is an improvement on fuel burn and top speed compared with previous versions of the design, which could fly between Mach 0.7 and 0.75.