SPACE ADVISORY GROUP DEBATES NASA'S MOON PLANS

WASHINGTON- NASA has yet to convince some high-profile space community members to back its plan to assemble a space station between Earth and the moon by 2026, and to return humans to the lunar surface by 2028.
"I think 2028 is so late-to-need that it doesn't even need to be on the table," Mike Griffin, undersecretary of defense for research & engineering said sharing his private opinion on Thursday as a guest speaker during a meeting of the National Space Council Users' Advisory Group at NASA headquarters. "It took us eight years to get to the moon the first time, and you're going to tell me it takes 10 to 12 to 14 to do it again when we know how?"

The space capabilities of China and Russia were central to the debate about when and how to return U.S. astronauts to the lunar surface among the Users' Advisory Group of industry representatives and former U.S. military officers who advise the White House about space.

"One of the highest values of moon and Mars exploration" is proving that the U.S. can do things other nations cannot, said Griffin, a former NASA administrator. Returning humans to the lunar surface as soon as possible is "a matter of geopolitical cache," he said, calling it a form of deterrence through scientific prowess.

China sent a lander to the surface of the moon in 2013, and Griffin said it could soon have the ability to send humans to moon. "If the Chinese wanted to do it they could pretty easily be on the moon within six, seven, eight years, no problem," he said. If China landed humans on the moon before the U.S. returned astronauts there, he said, "such an event would cause a realignment of geopolitical thinking that would be extremely damaging to the United States."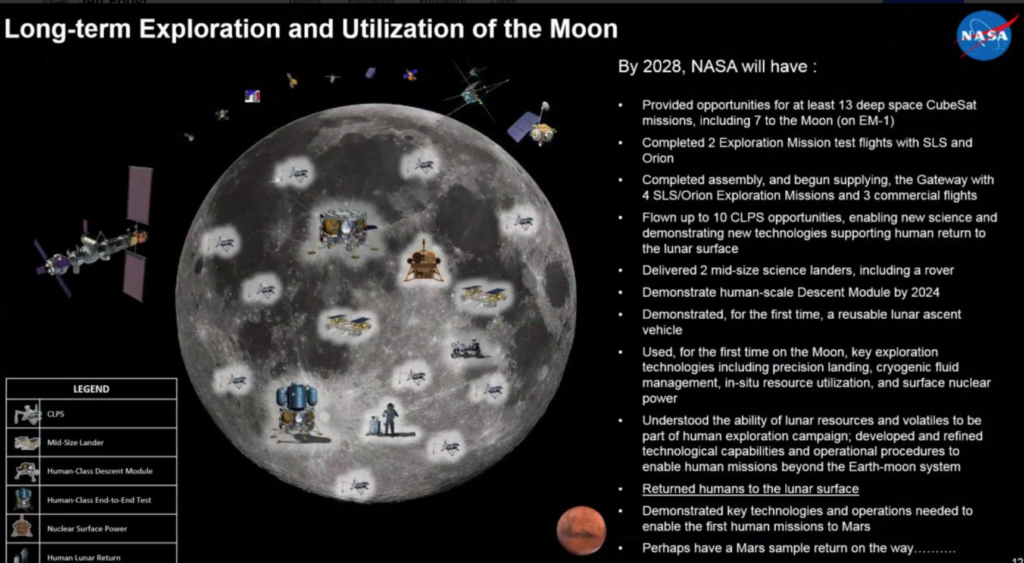 NASA's plan to assemble a space station in cislunar orbit, known as the Gateway, as a staging area for missions to the lunar surface and Mars was also criticized during the meeting.

"Putting a Gateway before boots on the Moon is, from a space-systems engineer's point, a stupid architecture," said Griffin.

Earlier in the week NASA published an article on its website addressing that it is often asked "why not just go straight to the moon" instead of its plan "for astronauts to shuttle between the Gateway and the Moon on reusable lander."
"Just like an airport here, spacecraft bound for the lunar surface or for Mars can use the Gateway to refuel or replace parts, and resupply things like food and oxygen without going home first," NASA said. "For months-long crew expeditions to the Gateway, this could allow multiple trips down to the lunar surface, and exploration of new locations across the Moon."

Members of the User's Advisory Group were skeptical, including Apollo 11 astronaut Buzz Aldrin who said during the meeting "I'm quite opposed to the Gateway."

"Why would you want to send a crew to an intermediate point in space, pick up a lander there and go down," Aldrin said, calling that concept "absurd."

So far NASA has paid five companies including Lockheed Martin and Boeing for studies about potential Gateway designs, but the agency has not paid anybody to build parts for it yet. That could change in March, when NASA said it expects to award one or more contracts to build a power and propulsion spacecraft as part of the Gateway to eventually move the space station and adjust its orbit. After that first part of the Gateway is constructed, it would be launched into space for a flight test around 2022.
There is still time for the National Space Council to ask the NASA for more details about its moon plans and to recommend different options if necessary, retired U.S. Air Force Col. Pamela Melroy told me in an interview after the advisory group meeting.
"We haven't gotten to the bottom of it yet and we look forward to asking more questions," said Melroy, a member of the advisory group and former astronaut.